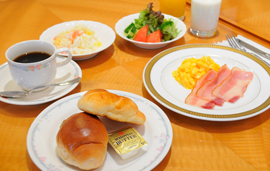 ■
Restaurant "Pier"/1st floor of the south building
Business hour
6:30〜10:00
Lunch
11:30〜14:00
Dinner
17:00〜22:00
The restaurant "Pier", serves a hearty well balanced breakfast during morning hours. For Lunch and Dinner, the restaurant offers exquisite dishes renowned in the area.

■
Lobby lounge"Marina"/ 1st floor by the Main Entrance
Business hour
9:00〜19:00
A classic lounge atmosphere perfect for business meetings, light meals, or drinks. You can enjoy as a tea lounge during the day and as a bar lounge during the night.